Conference "Welcoming is not simple. The challenge of inclusion of asylum seekers in the EU and at the local level"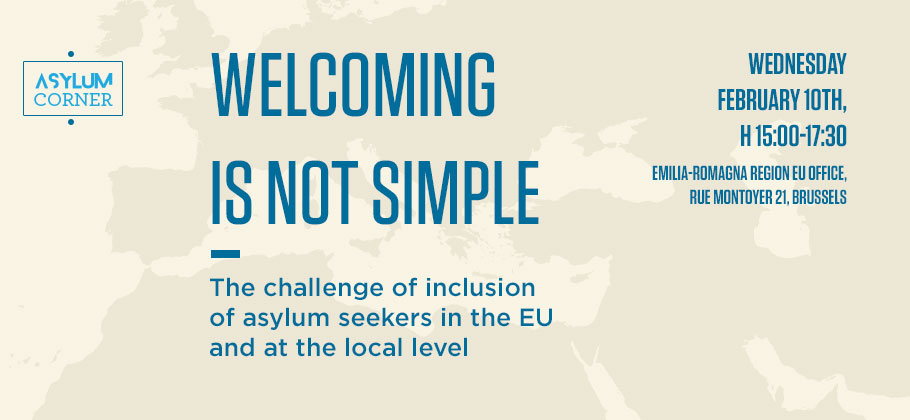 The challenge posed today by the reception of asylum seekers in Europe puts under severe scrutiny the work and functioning of the European Institutions and civil society associations. But how are national and local authorities tackling the issue?
Italy in particular is today realizing that welcoming asylum seekers entails very practical, delicate and difficult actions, which could take into account the complexity of the relations between citizens, social workers and asylum seekers, who deserve not only basic goods but also legal assistance, information provision and listening services.
During the conference, the speakers will discuss the many topics connected to practices of reception as well as more global overviews and policies set up by international institutions. This is indeed the approach of Asylum Corner, the platform that will be presented during the conference, which attempts to create a common ground where the players working at different levels in the field of asylum could share their perspectives and spur a truly constructive debate.
For security reasons, participants should register by sending and email to communication@asylumcorner.eu before Tuesday 9th.
When and where
Wednesday February 10th, h 15:00-17,30
At the Emilia-Romagna Region, EU Office, Rue Montoyer 21, Brussels
Programme
Opening by Lorenza Badiello, Head of the EU Office, Emilia-Romagna Region
Speakers:
Michele Cercone, Head of Communication Sector, DG Home European Commission
Andrea Vonkeman, Senior Policy Officer, UNHCR Bureau for Europe
Nicolas Jacobs, Legal Service Deputy Director, Fedasil
Torsten Moritz, Executive Secretary, Churches' Commission for Migrants in Europe
Andrea Marchesini Reggiani, President, Lai-momo Cooperative Society and Asylum Corner
Presentation of Asylum Corner by Claudia Marà
Moderator: Sandra Federici, Director of the journal Africa e Mediterraneo
Final Refreshment and networking